Adopt-a-Hole Program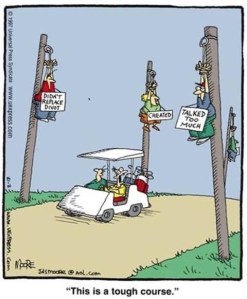 The Groves Golf and Country Club is home to residents that care deeply for their home golf course. The Pro Shop has asked for volunteers to help maintain our course.
Below is the current list of Volunteers and their associated Holes. We are hoping to have 2 Volunteers per Hole to make it a little easier.
Volunteers are asked to fill divots on tees and fairways, repair ball marks on green, and to straighten boundary stakes and signs.
If you'd like to be part of the program please fill out the form below.
Thank you!
| Hole # | Volunteer | Volunteer |
| --- | --- | --- |
| 1 | The Allisons | Nat and Chris |
| 2 | Dale Ritchie | The Parkers |
| 3 | Dan Murphy | Dan Murphy |
| 4 | Bob Herzing | Eric Smith |
| 5 | The Lussiers | The Rohrs |
| 6 | Tom Wirkus | Ron Scruggs |
| 7 | Ken Edwards | The Petersons |
| 8 | The Tucknotts | |
| 9 | The Mareks | |
| 10 | Juan Maldonado | |
| 11 | Bill Case | |
| 12 | The Spoons | The Beauchaines |
| 13 | Greg Zak | |
| 14 | Russell Pruett | Mike Hobbs |
| 15 | Armendarizes | Patricia Tyborowski |
| 16 | Bob Lombardo | Dan Stahl |
| 17 | Jim Nearey | John Duffy |
| 18 | Bob Herzing | Brian Thomas |
| Driving Range | | |