Adopt-a-Hole Program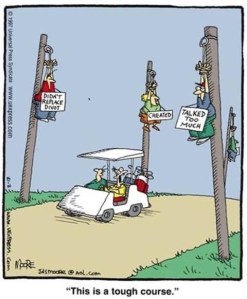 The Groves Pro Shop is looking to revitalize the Adopt-a-Hole Program.
We have removed the list from the bulletin board and would like to start fresh.
The Pro Shop will also have scoops and 2 gallon buckets by the Divot Mix (Green Sand) located in the Maintenance Area.
The scoops and buckets are not to take home and keep, please return them once you are done so others have a chance to care for the course as well.
Below is the current list of Volunteers and their associated Holes. We are hoping to have 2 Volunteers per Hole to make it a little easier.
If you'd like to be part of the program please fill out the form below.
Thank you!
| Hole # | Volunteer | Volunteer |
| --- | --- | --- |
| 1 | The Allisons | Nat and Chris |
| 2 | Dale Ritchie | The Parkers |
| 3 | Dan Murphy | Dan Murphy |
| 4 | Bob Herzing | Eric Smith |
| 5 | The Lussiers | The Rohrs |
| 6 | Tom Wirkus | Ron Scruggs |
| 7 | Ken Edwards | The Petersons |
| 8 | The Tucknotts | |
| 9 | The Mareks | |
| 10 | Nancy Bellamy | Grady Matthew |
| 11 | Bill Case | |
| 12 | Jeff Edmond | The Beauchaines |
| 13 | Greg Zak | |
| 14 | Russell Pruett | Mike Hobbs |
| 15 | Armendarizes | Patricia Tyborowski |
| 16 | Bob Lombardo | Dan Stahl |
| 17 | Jim Nearey | John Duffy |
| 18 | Bob Herzing | Brian Thomas |
| Driving Range | | |